Next Level Classes
Check out our Next Level classes being offered
And sign up below!
The Praying Life / Fresh Encounter — led by Pastor Rob

Fresh Encounter by Henry Blackaby, Richard Blackaby and Claude King guides believers through the biblical pattern of experiencing God's presence which leads to revival in the church and a spiritual awakening in the world. Pastor Rob will be directing us through the study in hopes of finding the next step for us as individuals and as a church.
Starts Wednesday, January 11th at 6:00pm
Financial Peace — led by Ryan Puls/Chris Pittman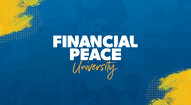 Financial Peace University is a nine-lesson course that teaches you how to steward what God has charged us to care for. God has called us to be managers of the time, talents, and resources he has entrusted to us. Come learn what the Bible has to say about, and find what financial peace really means.
Starts Wednesday, January 18th at 6:00pm
Experiencing God: Knowing & Doing the Will of God — led by Willliam Tollett
God is inviting you into an intimate love relationship through which He reveals to you His will, His ways, and His work. When you recognize where God is working, you can join Him in what He is doing. Carefully listening to His voice will anchor you in His plan and set you free to live it with boldness and freedom. Then you will experience God doing through you what only He can do.
Starts Sunday, January 22nd at 6:00pm
Book cost $15 (book not required to join class)
Elijah: Spiritual Stamina in Every Season - led by Donna Sherman

At times, life can feel like a rollercoaster. One day everything is good, and the next it can feel like everything is falling apart. How can we walk with God through the many peaks and valleys of life? God has a next step for you to take. Come seek Him with us to find out what it is!
Start Sunday, February 5th, 6:00p - 7:30p
Book cost $10 (scholarships available upon request)